Rubero / ルベロ
No. 0077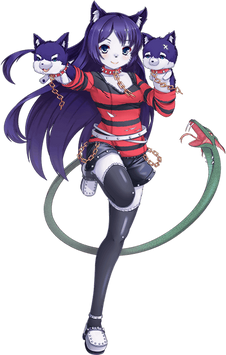 | | | | |
| --- | --- | --- | --- |
| Max Lv. | 40 / 70 | Resource Use | 110 |
| Species | Cerberus | Seiyuu | Abe Reiko |
Stats
| Stats | Base | Lv. 40 | ★ | ★★ | ★★★ | 100% ♥ |
| --- | --- | --- | --- | --- | --- | --- |
| HP | 367 | 657 | 732 | 806 | 880 | +155 |
| AGI | 77 | 138 | 153 | 169 | 184 | +73 |
| ATK | 275 | 493 | 549 | 605 | 660 | +137 |
| DEF | 184 | 329 | 366 | 403 | 440 | +91 |
Skills
| | |
| --- | --- |
| Let's go! Let's go‼ | Attack 3 enemies at 0.8x power |
| Angered Watchdog | Reduce incoming damage by 25% |
| None | |
Introduction
| Event | Japanese | English | Notes |
| --- | --- | --- | --- |
| Introduction | | | |
| Intro (Memorial) | | | |
Home
| Event | Japanese | English | Notes |
| --- | --- | --- | --- |
| Home | | | |
| Home (≥ 10 times) | | | |
| Profile | | | |
| Refresh | | | |
| Organization | | | |
| Fusion | | | |
| Limit Break | | | |
| Job (Start) | | | |
| Job (End) | | | |
| Meal | | | |
| Request Complete | | | |
Outing
Event
Japanese
English
Notes
Outing (Begin)

Outing (End)

Item Pickup

Encounter

Encounter (Start)

Encounter (Victory)

Encounter
(Total Victory)

Encounter (Defeat)

Attack

Skill

Cheer (Attack)

Cheer (Defend)

Hit

Hit (Critical)

KO

Care
Event
Japanese
English
Notes
Care (Begin)

Touch (Good)
Affection < 30%

Touch (Good)
Affection ≥ 30%

Touch (Good)
Affection ≥ 60%

Touch (Chest)
Affection < 30%

Touch (Chest)
Affection ≥ 30%

Touch (Chest)
Affection ≥ 60%

Touch (Bad)

Hourly Notifications
| Time | Japanese | English | Notes |
| --- | --- | --- | --- |
| 00:00 | | | |
| 01:00 | | | |
| 02:00 | | | |
| 03:00 | | | |
| 04:00 | | | |
| 05:00 | | | |
| 06:00 | | | |
| 07:00 | | | |
| 08:00 | | | |
| 09:00 | | | |
| 10:00 | | | |
| 11:00 | | | |
| 12:00 | | | |
| 13:00 | | | |
| 14:00 | | | |
| 15:00 | | | |
| 16:00 | | | |
| 17:00 | | | |
| 18:00 | | | |
| 19:00 | | | |
| 20:00 | | | |
| 21:00 | | | |
| 22:00 | | | |
| 23:00 | | | |
Character
Edit
Appearance
Edit
Personality
Edit
Rubero's name comes from the Japanese katakana of "Cerberus", which is ケルベロス族. The bolded area is her name.
Rubero's hands are named ケー (Kee) and スー (Suu), you can recognize who's speaking from the way they use kanji, hiragana and katakana.
Rubero speaks using normal japanese, while Kee uses kanji and combines it with katakana (i.e. 来ル (Kuru) "Come" 来ナイ (Konai) "Don't come"), Suu speaks using only katakana (i.e. コワイヨ~ (Kowaiyo~) "Scary").