Bima / ビマ
No. 0003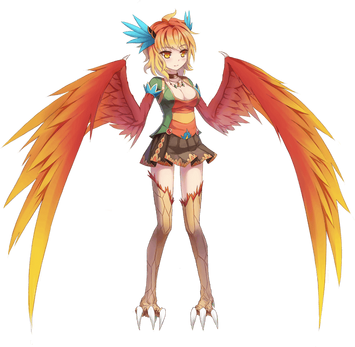 | | | | |
| --- | --- | --- | --- |
| Max Lv. | 20 / 50 | Resource Use | |
| Species | Garuda | Seiyuu | Matoba Kei |
Stats
| Stats | Base | Lv. 20 | ★ | ★★ | ★★★ | 100% ♥ |
| --- | --- | --- | --- | --- | --- | --- |
| HP | 173 | 241 | 276 | 311 | 346 | +41 |
| AGI | 36 | 50 | 58 | 65 | 72 | +24 |
| ATK | 130 | 181 | 207 | 234 | 260 | +43 |
| DEF | 87 | 121 | 138 | 156 | 173 | +24 |
Skills
| | |
| --- | --- |
| None | |
| None | |
| Passionate Guts | Raises Passion type Attack by 25% |
Introduction
Event
Japanese
English
Notes
Introduction

アーハッハッハッハッ!

今日からこの家はオレの縄張りだぜ! んあ? 下僕のくせに誰がくるのか調べてないのかよ。 オレはビマ! ハーピー系最強のガルーダ族だ!

Aahahahaha! Starting from today, this place is my territory!

Eh? Doesn't this manservant know who I am? I am Bima! The strongest successor of the Garuda clan!

Garuda is an Indian mythological bird - the chief of the feathered race, the charioteer of the sun, and the personified dawn.
Intro (Memorial)

どうだ?この俺の輝かしいできしわ!
So? Are you drowning in the great Bima's brilliance yet?
Home
| Event | Japanese | English | Notes |
| --- | --- | --- | --- |
| Home | | | |
| Home (≥ 10 times) | | | |
| Profile | | | |
| Refresh | | | |
| Organization | | | |
| Fusion | | | |
| Limit Break | | | |
| Job (Start) | | | |
| Job (End) | | | |
| Meal | 飯だ飯だ! | So much food! | |
| Request Complete | | | |
Outing
Event
Japanese
English
Notes
Outing (Begin)

Outing (End)

Item Pickup

Encounter

Encounter (Start)

Encounter (Victory)

Encounter
(Total Victory)

Encounter (Defeat)

Attack

Skill

Cheer (Attack)

Cheer (Defend)

Hit

Hit (Critical)

KO

Care
Event
Japanese
English
Notes
Care (Begin)

Touch (Good)
Affection < 30%

Touch (Good)
Affection ≥ 30%

Touch (Good)
Affection ≥ 60%

Touch (Chest)
Affection < 30%

Touch (Chest)
Affection ≥ 30%

Touch (Chest)
Affection ≥ 60%

Touch (Bad)

Hourly Notifications
| Time | Japanese | English | Notes |
| --- | --- | --- | --- |
| 00:00 | | | |
| 01:00 | | | |
| 02:00 | | | |
| 03:00 | | | |
| 04:00 | | | |
| 05:00 | | | |
| 06:00 | | | |
| 07:00 | | | |
| 08:00 | | | |
| 09:00 | | | |
| 10:00 | | | |
| 11:00 | | | |
| 12:00 | | | |
| 13:00 | | | |
| 14:00 | | | |
| 15:00 | | | |
| 16:00 | | | |
| 17:00 | | | |
| 18:00 | | | |
| 19:00 | | | |
| 20:00 | | | |
| 21:00 | | | |
| 22:00 | | | |
| 23:00 | | | |
Character
Edit
Appearance
Edit
Personality
Edit